Student activists have always been at the front lines. Whether you are learning or teaching, here are some resources to help you take your activism to the next level.
Write for Rights resources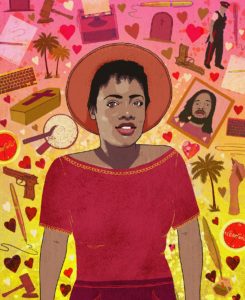 To complement our Term 4 2017 Start Something! student magazine, we have four additional lesson plans for teachers to use in the classroom to teach human rights. Using the Write for Rights campaigns as a framework, the lesson plans use compelling stories of real people from around the world who are being persecuted for standing up for their beliefs.
Download the Write for Rights lesson plans:
The lesson plans are aimed at secondary school students.  Students will learn to identify rights in the Universal Declaration of Human Rights, and how they have been violated in the instances of four people. The lesson plans address multiple curriculum areas including English, History, Geography, Society and Culture, and Politics and the Law.
DOWNLOAD A CAMPUS BULLETIN
At uni or TAFE? Our campus bulletin details ideas and resources to help you take action for human rights on campus. Designed specifically for students, you'll find campaign updates, innovative action and fundraising ideas and more.
DOWNLOAD A SCHOOL PACK
Our free Start Something schools resource is published four times a year and read by thousands of
youth activists and school teachers all across Australia.
In each edition, you'll read about the latest human rights news, activism opportunities, and inspiring
stories of how our youth activists are making a difference in the world.
PS > You can subscribe for school action pack email alerts in your account details.
TEACH FOR RIGHTS
Human rights education in schools is critical to building empowered
societies who know and can realise their rights.
As well as our quarterly Start Something schools resource, we produce additional short lesson plans for teachers that can be adapted to suit your classroom. Please check back regularly for new resources. If you have any feedback or suggestions on the lesson plans, please get in touch at youth@amnesty.org.au
Schools Outreach program
The Amnesty International Australia's Schools Network Outreach Team, fondly know as SNOTs, work to help empower Australian students and teachers to take action for human rights. Schools Outreach Teams support human rights activism by students and their communities through diverse events, programs and leadership opportunities.
SNOT teams are able to support schools in the following ways:
School Visits – deliver presentations and workshops about Amnesty International, human rights and campaigns.

School Group Support – help students and teachers start and build Amnesty Action Groups

Resources for Students and Schools – provide schools/students/groups with Amnesty campaign information, resources and materials.
To get involved in Amnesty International's Schools Outreach Program, simply fill in the below form. At the start of each term you'll receive Start Something, a free e-magazine for students and teachers packed with creative lessons and ideas to get students pumped about human rights. We're keen to know how we can support you, your schools and your community.