My New Neighbour: a way to bring refugees safely to Australia
It's time to start focusing on the solutions. It's time to strengthen the power of your community and use it to create new pathways for refugees to safely settle in Australia. 
We have all watched as successive governments have failed to deliver a fair, safe and orderly system for refugees. We have witnessed cruelty and abuse as a result of this failure and we have raised our voices loudly in response. But as 2017 came to a close we were all left with a question: where to from here?
In 2018, our campaign will be asking communities around Australia to support community-led sponsorship.
What is Community Sponsorship?
Not familiar with the Community Sponsorship, check out this explainer video!
Campaign Resources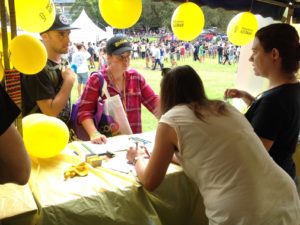 This year there is an exciting grassroots plan for our refugee campaign. It's all about people power. We believe that showing a critical mass of people a better plan for refugees and by persuading them to support it we can force politicians to act. 
By growing visible support in your community for an improved community sponsorship program and lobbying your local council to show their support, we will send our Government a clear message – our communities are serious about creating safe ways for their new neighbours to be brought to Australia.
For more information download the campaign resources – more resources to come!
Download the 2018 refugee campaign TOOLKIT
Training: Community Mapping
Mapping your community is a key part of the success of your local campaign. Your Community Organiser will be running training in your state for groups interested in working on this campaign to maximise the local impact. Keep an eye out for updates in the Leader Newsletter to be the first to know when this training will be available.
---
For more background resources about our refugee campaign, including our research, visit our Refugee resources for education and the films and photo exhibitions for your events page.